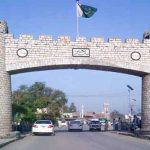 ISLAMABAD: Police have detained a suspicious foreigner in the federal capital's Red Zone on Wednesday.
According to police, Marcel Deutsch, a German national, was rounded up near Serena Hotel. He has been moved to Secretariat Police Station for interrogation.
Police further said that Marcel wanted to go to Indian embassy. Apparently, his travel documents seem authentic.
The red zone houses state buildings and foreign embassies. Strict security arrangements are in place in the federal capital as Islamabad is hosting the 13th meeting of the Economic Cooperation Organisation today.
In a meeting chaired by Interior Minister Chaudhry Nisar Ali Khan, it was decided that foolproof security will be provided to heads of state, heads of government and foreign delegations.
It was also decided that local holiday will be observed on Wednesday in the twin cities.
According to police, different roads of the capital have been closed for traffic from 1.00 pm till midnight.
The heavy traffic coming from Lahore has been diverted to Rawalpindi via Rawat. Traffic from Peshawar has also been diverted to Rawalpindi through Mehrabad Flyover.
Citizens of twin cities have been advised to avoid unnecessary traveling during this period.