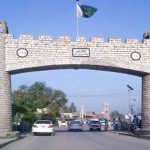 ISLAMABAD: Law enforcement agencies in Islamabad were on Tuesday put on high alert following the deadly attack at Peshawar Police Lines masjid that left 87 people death and injured 157 others on Monday.
According to reports, Islamabad has been put on high-security alert, adding special measures have been taken at key sensitive buildings including the President House, Prime Minister House and Parliament building, and other places.
Moreover, high security was also beefed up at all the entry points of the capital.
The snipers have been deployed at all locations. People are instructed to carry identity cards and essential documents while traveling.
These security measures were taken to avert and deal with any sabotage activity in untoward situations.
Meanwhile, Sindh Police Inspector General (IG) has also ordered officials for patrolling and snap checking in Karachi.
On Monday, at least 83 people were killed and over 157 people were injured, including 27 people officers and other police officials in a suicide explosion at Police Lines mosque in Peshawar.
Prime Minister Shehbaz Sharif has termed the suspected suicide blast in Peshawar an attack on Pakistan, adding that terrorism was the foremost national security challenge facing Pakistan.
He said this while meeting with survivors of the attack at the Lady Reading Hospital in Peshawar.
PM Shehbaz said that such cowardly terror attacks will not weaken the nation's resolve and that all the terrorists and their facilitators involved in attacks on innocent citizens will be punished.
He added said those who had shed blood of worshipers could not be Muslims.
"Criminals behind the terror attack will not be absolved by Allah," he remarked, as he vowed to root out terrorists.