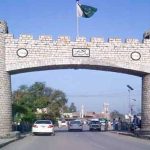 ISLAMABAD: The Islamabad High Court (IHC) remarked on Wednesday that the matter of placing on Exit Control List (ECL) the name of a US diplomat – who ran over his vehicle on a young man in Islamabad – should be decided in five days.
On April 7, the vehicle of US Defence and Air Attache Colonel Joseph Emanuel Hall ran a red light and rammed into a motorcycle killing Ateeq Baig on the spot and injuring his cousin.
A committee has been formed to decide about placing name of the diplomat of ECL.
IHC Judge, Justcie Aamer Fariiq also came down hard on police for going soft on the diplomat and remarked that diplomatic immunity does not permit killing someone.
He reprimanded the police for poorly handling the case stating that the police failed to follow procedure in the case.
He also came down hard on the police for recording statement of the diplomat in Urdu saying the diplomat could say he does not speak the language.
Responding to a question, the police informed the court that he set free the diplomat after receiving a call from the Foreign Office.
The judge observed that diplomatic immunity should be sought but going through the wheels of justice is also necessary.
The hearing was then adjourned until Tuesday.