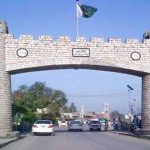 LAHORE: The protesters of Tehreek-i-Labbaik Ya Rasool Allah (TLY), has called their seven-day sit-in in Lahore late Friday after successful talks with the government.
Speaking at a press conference here following the agreement, Ashraf Asif Jalali thanked the participants for staging the sit-in for seven consecutive days.
Jalali said the names of those responsible for the change in the amendment to the 'Finality of Prophethood' declaration for the electoral candidates in the Elections Act 2017 will be made public by December 20.
He claimed that the government has provided them with a list of protesters who were martyred, wounded, or arrested.
About Sanaullah's resignation, he said that the "court of Pir Hameeduddin Sialvi" will decide the matter. He, however, said that they are not retracting the demand for action against the minister.
"If the agreement isn't acted upon in a month's time, then we will again take to streets," he warned, advising his followers to stay ready and on alert.
The two sides also agreed that the federal government will act upon the points mutually agreed upon between the faction and the government in Islamabad a month ago.
As per the agreement, a committee would be constituted to decide on the number of loudspeakers in each mosque in the province. The government agreed that the legislation will be made in line with the recommendations of the committee by January 16, 2018.
The two sides also agreed that the Muttahida Ulema Board, Punjab will review the educational curriculum of the province in connection with the religious views propagated through it.
Talking about his differences with Khadim Hussain Rizvi, the head of the other faction of TYL, Jalali announced that a "Sunni Ulema Board" has been constituted on Friday and that he is going to submit his written resignation to the board. He further said that Rizvi will also be appearing before the board to express his viewpoint.