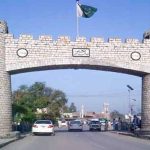 ISLAMABAD: The Balochistan Awami Party will back the PTI with its four National Assembly seats in the Centre. The party will also form an alliance with the PTI in the Balochistan Assembly.
Jam Kamal Khan will lead a delegation of Balochistan Awami Party (BAP) that has arrived in Islamabad to meet the PTI leadership at Bani Gala today. Zubaida Jalal, Khalid Magsi, Ashfaq Tareen and Ehsan Raki are members of the delegation. Senator Anwarul Haq Kakar will also accompany them. He is also a party member.
The four MNAs of BAP will declare their support for the PTI.
A decision on choosing Jam Kamal Khan or Abdul Quddus Bizenjo for the Balochistan CM slot is also expected today.
At provincial level, the recently formed BAP has become the largest political party in Balochistan with 18 out of 50 seats in the assembly.
The Hazara Democratic Party, Awami National Party, Balochistan National Party – Awami and three independent candidates have pledged their support to the BAP.
With the arrival of more independent candidates, the number of BAP MPAs has risen to 25. The party needs just one more member for a simple majority in the house.