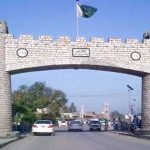 PESHAWAR: The central amir of Jamaat-e-Islami Sirajul Haq has announced that the Jamaat-e-Islami  will  march towards Islamabad on February 8, saying that the government has failed to implement the National Action Plan for elimination of terrorism.
Addressing a press conference here on Monday, Sirajul Haq said that the whole nation had supported the National Action plan for peace in the country. However, he regreted, the national action plan was not implemented in letter and spirit. He said that the nation has not seen any positive result of the National Action plan.
"Our foreign minister has been visiting the world repeatedly, but never went to Afghanistan, which was very important", he said, adding that Pakistan should settle its issues with Afghanistan.
The JI chief said that the government has failed to fulfil its responsibilities, adding that if the situation did not improve, the people could reach to their offices and palaces. "Remaining silent spectator and waiting for another tragic incident is unbearable", he said. The southern districts of the province have turned into Syria, he said, adding that Malakand and tribal districts have also similar situation.