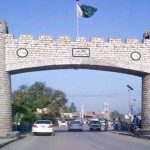 ISLAMABAD: National Security Adviser Nasser Khan Janjua has called upon the international community to play its role for an amicable solution of the Kashmir dispute.
He expressed these views while talking to British High Commissioner Thomas Drew in Islamabad on Thursday.
Current regional situation in the context of strained relations between India and Pakistan amidst the ongoing Indian atrocities in Kashmir were discussed during the meeting.
The National Security Adviser highlighted the need for responsible and tolerant behavior on the part of both countries.
He said Pakistan reacts prudently to the irresponsible lip service by the Indian media.
Nasser Khan Janjua thanked and lauded the British concerns in the wake of tense regional situation and its role for easing this tension.
He said growing tension between India and Pakistan will push the whole region towards instability.