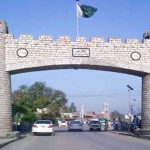 LAHORE: Qatari Prince Hamad Bin Jassim bin Jaber Al-Thani called on the ousted Prime Minister Nawaz Sharif at his Jati Umra residence in Raiwind, Lahore on Wednesday.
The prince, accompanied by a 13-member delegation, arrived in Lahore via a special plane.
On the orders of federal government, the dignitaries were given an official protocol and taken to Nawaz Sharif's residence in Jati Umra from Lahore airport's Hajj terminal.
Qatari Prince held talks with Sharif over bilateral matters and other significant issues. Former senator Saifur Rehman was also present in the meeting.
However, media reports said that the exact agenda of the meeting could yet not be ascertained.