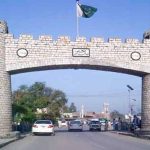 LAHORE: Pakistan Muslim League-Quaid (PML-Q) and Jamaat-e-Islami (JI) decided to convene round-table conference following Eid-ul-Fitr in view of current political situation in the country.
Jamaat-e-Islami (JI) Chief Siraj-ul-Haq called on the central leaders of PML-Q at their residence in Lahore.
The leaders from the two sides saw eye to eye to bring elections reforms in the roundtable conference.
Chaudhry Shujaat remarked it is Supreme Court of Pakistan, not Joint Investigation Team (JIT), that will decide the Panama case.
If the opposition parties are geared up, then the anti-government movement will definitely be waged, the two sides expressed unanimity.
Later talking to media, Siraj demanded Prime Minister Nawaz Sharif not to exercise his executive powers so that investigations are carried out in a transparent manner.
"The Prime Minister is touring along with soiled character. If the court clears him, he will have his mandate," he added.