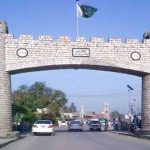 ISLAMABAD: Jamaat-e-Islami (JI) has submitted a memorandum in United Nations (UN) office in Islamabad today (Friday) against torture on Muslims in Burma and announced to held a protest march on June 14 in favour of Rohingya Muslims.
While talking to media outside the UN office, JI Amir Siraj-ul-Haq said that the worst carnage of Rohingya muslims continues in Burma whereas they are being sent to sea altogether in ships.
JI Chief said that more than 40 lac Muslims have been martyred till date however; the silence of global community especially UN is beyond comprehension.
He also criticized OIC for keeping criminal silence on this issue and termed its existence meaningless.
He demanded that OIC should be abolished as it has failed to play any part for the well-being of Rohingya Muslims.
Furthermore he also stated that dozens of leaders in Bangladesh were hanged for their love for Pakistan.