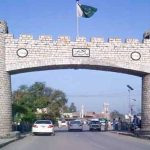 LAHORE: Jamaat-i-Islami (JI) chief Senator Siraj-ul-Haq has summoned a jirga at Mansoorah on 3rd March over the racial profiling of Pashtuns within Punjab.
According to details, leaders from Khyber Pukhtunkhwa and Punjab have been invited to participate in the Jirga.
Siraj-ul-Haq revealed that the Pashtuns are subjected to 'racial profiling' inside Punjab. He let it be known that no law should be mishandled in this regard and that the victimization of Pashtuns is not in favor of the country.
Siraj-ul-Haq professed that insecurity is not a problem of a single person but indeed the whole nation.