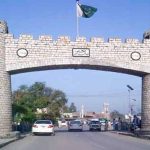 PESHAWAR: The jirga, formed to hold talks with Pashtun Tahaffuz Movement (PTM), has asked the Sindh government to allow the movement to hold rally in Karachi on May 13 in a democratic manner.
Briefing media after the jirga meeting in Hayatabad, Peshawar, jirga members stressed, that the movement should ensure no anti-state statements will be made during the rally. "There is no need to disrupt the Karachi rally," they added. "We will not let the enemies take advantage of any misapprehensions between PTM and the state."
The jirga, formed by the Khyber Pakhtunkhwa (K-P) apex committee, held the third round of discussions attended by tribal elder Malik Khan Marjan, Information Minister Shah Farman and MNA Shah G Gul. Marjan said the jirga is scheduled to meet PTM on May 16.
The jirga members expressed hope that negotiations with the group would yield positive results.
The jirga has also recommended the government and the apex committee to hold a meeting before the given date. Farman remarked that the PTM had given a date on a short notice. "They should have given time earlier. The last meeting was held on April 25." "This is an issue for all Pashtuns. We hope the PTM will give due importance to the jirga as well," he added. The members believe the process of talks may be extended till the holy month of Ramazan.
Meanwhile, PTM members complained that FIRs were registered against several members of the movement including Mohsin Dawar and Ali Wazir. They alleged that Sindh police has resorted to harassing the movement's workers ahead of May 13 rally in Karachi.