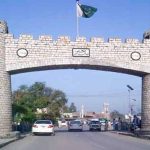 MIRAN SHAH: A Jirga was held on Sunday at Miran Shah, North Waziristan agency to discuss the issue of compensating affected shopkeepers of the agency.
Besides others, the Jirga was attended by Director General ISPR Major General Asif Ghafoor, officials of Political Administration and traders.
A committee was constituted to estimate the damaged businesses due to terrorism and compensate them at the earliest.
The committee shall meet on weekly basis for quick survey and resolution of the problems of traders.
The representatives of traders expressed confidence in the security forces and administration for solving their problems.
The committee shall meet on weekly basis till completion of execution so as to have speedy progress.