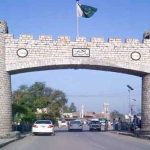 PESHAWAR: The five days ultimatum given by elders of Khalil Qaumi Jirga to KP government for taking practical steps to control dengue epidemic is going to expire on Sunday.
Meanwhile, members of the Jirga, comprising members of political parties, people of dengue affected areas and elders of Khalil tribe, have reiterated their threat of holding protect demonstration on Monday at University road for acceptance of their demand of containing dengue.
The decision to this effect was taken at an important meeting of Khalil Qaumi Jirga held here on Saturday. The jirga was attended by Maulana Amanullah Haqqani of JUI(F), PML(N) leader, Arbab Khizer Hayat, Kashif Azam of JI, Arbab Tahir Khan of ANP, Arbab Zark Khan of PPP and Pir Fida Advocate of PTI.
Briefing newsmen about the meeting of Khalil Jirga, Arbab Khizer Hayat said death toll due to dengue virus is increasing by each day and no practical step is being taken by government nor any payment is paid to the affectees as compensation.
KP government is not showing seriousness in controlling dengue epidemic which is rapidly affecting people by each passing day, Arbab Khizer alleged. He said the dengue affected area, Tehkal, has not so far been declared as calamity hit area.
The Khalil Qaumi Jirga, Arbab continued, had given a deadline of five days to government for showing seriousness and taking practical measures, but government has neither made any contact with jirga elders nor did acted on charter of demand presented by the jirga members.
Arbab Khizer Hayat said Khalil Qaumi Jirga members believe that government is not showing any concern over ailment and death of dwellers of Tehkal area where thousands of people have been affected because of the mosquito borne disease.
Now the members of Khalil Qaumi Jirga have decided to hold protest sit-in on University road on Monday, Arbab reiterated. He also clarified that the protest sit in will be peaceful aimed at raising voice for acceptance of our demand.
In case if the participants of protest procession were baton charged or arrested than the members of Khalil tribe will besiege Chief Minister House and Provincial Assembly while declaring a war against provincial government, Arbab warned.