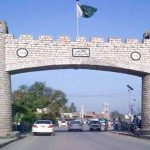 ISLAMABAD: Police have registered an FIR against unknown persons for firing at the residence of Supreme Court judge, Justice Ijazul Ahsan in Lahore.
The FIR include attempt to murder and terrorism sections.
A Joint Investigation Team (JIT) has also been constituted to look into the firing incident at the residence of Justice Ijazul Ahsan.
Spokesperson of Punjab Government Malik Ahmad Khan said in a statement that additional IG Muhammad Tahir will head the JIT, while its other members include DIG Investigation Sultan Chaudhry and representatives of MI, ISI, and IB.
Officers of the Special Branch and Forensics Agency are also included in the team.