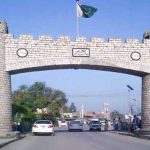 KARACHI: The Sindh government Wednesday formed a joint investigation team (JIT) to investigate recent cases against MQM jailed leader Waseem Akhtar, who has recently taken oath as mayor Karachi. The Sindh Home Department issued a notification in this regard.
According to the notification issued by Sindh Home department, the JIT is formed under the supervision of senior superintendent of police. It also includes an officer from Sindh Rangers and members from all intelligence agencies (ISI, MI, IB, special branch) and grade 18 CTD officers.
According to police officials, two cases are lodged against Waseem Akhtar at Malir City and Sachal police stations under clauses of anti-terrorism, criminal conspiracy against Pakistan and destabilizing the country.
The notification states, that the JIT will interrogate and investigate the charges within seven days and will submit its report within two days of completion of interrogation.