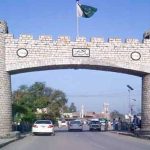 ISLAMABAD: Joint Investigation Team (JIT) headed by Federal Investigation Agency's (FIA) Additional Director-General Wajid Zia has taken notice of Hussain Nawaz's leaked picture while he was sitting in wait at Federal Judicial Academy.
Wajid Zia is personally conducting the inquiry with a question reviewing if the picture is real or not.
It should be mentioned here that the picture registers the time of 11:37am May 28; hence, the officers, who were present on duty the same day, are being questioned over the leak.
Later, the JIT will present its stance before the Panama implementation bench.
Taking strong exception to the the leakage during JIT investigations, Minister of State for Information, Broadcasting and National Heritage Marriyum Aurangzeb termed it an unusual happening.
The minister of state, in a statement issued here yesterday, said that the modus operandi of the leakage of the picture and its illegal publication was regrettable, demeaning and also a serious breach of the investigation rules.