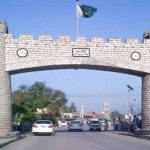 KARACHI: Minister for Marine Affairs Ali Haider Zaidi says all institutions in the country are working independently without any interference from the government in the accountability procedure.
Talking to media in Karachi on Sunday, he said the cases against PPP leader Asif Zardari were not started by PTI but PML(N) government.
Ali Haider Zaidi said the JIT report has made several things clear about the PPP leadership and has revealed their corruption.
He said the situation in Sindh has deteriorated abysmally under the PPP government and now is the time to take steps to change this system of corruption.