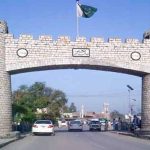 PESHAWAR: The Joint Investigation Team (JIT) to probe the lynching of Mashal Khan – a student of Abdul Wali Khan University Mardan (AWKUM), has compeleted its enquiry report revealing the indirect involvement of a certain political group in the incident.
The report stated that the political group was threatened as Mashal Khan would openly speak of it's infulence on the varsity's administration which is why the group incited people to attack him over blasphemy.
The report also said "However, there is no proof against Mashal and his friends of being involved in blasphemy," but the president of Pakhtunk Students Federation (PSF), the student wing of Awami National Party (ANP) and an employee of the university wanted to rusticate Mashal for his blunt comments against irregularities in AWKUM.
The report has revealed that the most of the people at the university ranging from the registrar to security officer were hired on the basis of nepotism. "They even have criminal records which has disrupted the environment of the university and it should be investigated," the report read.
The report stated that the murder of Mashal Khan was pre-planned and also raised questions about the role of the police.
The report further stated that Mashal last spoke to the hostel warden after was tortured by a mob, recited the kalma and pleaded to be taken to the hospital.
A total of 57 people has been suspected to be involved in the ghastly lynching, out of which 54 have been arrested. Twelve of the arrested people were employees of the university.
Mashal was lynched in the campus over allegations of blasphemy in April, after which a 13-member JIT was formed to probe the case.