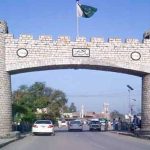 HARIPUR: In another attack on freedom of expression and free press, journalist and reporter of daily Kay-2 Times – Muhammad Sohail Khan was shot dead by unidentified assailants in Hattar area of Haripur district here on Tuesday.
Kay 2 TV chief reporter Raja Muneer reported that the assailants opened indiscriminate firing at journalist Sohail Khan when he was coming back from court. He was killed on the spot.
Sources said that yesterday Sohail Khan had filed a report against a drug peddler who was later arrested by the police. Angered over father's arrest, his son shot dead the journalist, sources revealed.
It is pertinent to mention here, earlier Kay-2 TV reporter Bukhshish Elahi was also killed in Haripur.
Journalist community across the country strongly condemned the brutal killing of Sohail Khan and announced protests.