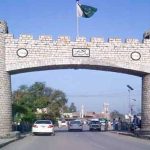 ISLAMABAD: Islamabad High Court (IHC) Thursday accepted interim bail plea of Nasir Janjua, accused in accountability court judge's video scandal, till July 30.
The accountability court judge Arshad Malik in his affidavit had accused Nasir Janjua among others of blackmailing him. The FIA had also registered an FIR against the accused. The FIA has arrested another accused Mian Tariq, who is in jail on judicial remand.
Nasir Janjua, fearing arrest, Thursday approached Islamabad High Court for interim-bail. Justice Amir Farooq heard the bail application and approved his interim bail till July 30.