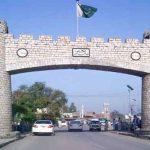 LAHORE: Awami Muslim League (AML) chief Sheikh Rasheed on Sunday has said that they will once again stage sit-in if necessary.
While talking to media at the airport, Sheikh Rasheed said that judiciary is like Wall of China in front of corruption.
He pronounced that a grand alliance of opposition would have been formed if Zardari had not overpowered Bilawal.
The AML chief predicted that Panama case result will be declared in January.
Besides lambasting the government, Sheikh Rasheed also criticized Ayaz Sadiq and said that no assembly can run and work properly while having a speaker like him.