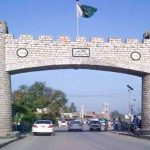 ISLAMABAD: Interior Minister Ahsan Iqbal has lashed out at the Chief Justice of Pakistan Mian Saqib Nisar for criticising the government of Punjab.
Chief Justice Saqib Nisar, during the hearing of Punjab's laptop distribution scheme, had expressed his dissatisfaction with the provincial government's performance. He had also issued a warning to the government officials to mend their ways 'while they still had time.'
"Honourable Chief Justice! It is for the people of Punjab to judge the performance in the upcoming elections. How can you make such statements just before general election? Is judiciary a political party?" Iqbal tweeted.
The apex court had taken a suo motu notice of the printing of the Chief Minister of Punjab Shehbaz Sharif's pictures on the laptops distributed under the provincial government's scheme.
"Why do the pictures of Punjab CM surface everywhere…even date sheets have Shehbaz's pictures printed on them," Justice Nisar had said.
"Government officials are using the money of a nation burdened by debts for self-publicity."
The CJP had also expressed his deep concern and apprehension about the increasing national debt.