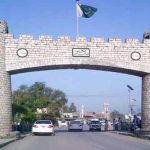 PESHAWAR: Jamaat-e-Ulema Islam-Fazl (JUI-F) on Tuesday announced its support for Pakistan Muslim League-Nawaz's candidate for the by-poll in the city's NA-4 constituency, scheduled on October 6.
PML-N Khyber Pakhtunkhwa President Amir Muqam and JUI-F provincial chief Gul Naseeb Khan made the announcement in a joint press conference at the provincial secretariat.
Muqam thanked JUI-F and Qaumi Watan Party chief Aftab Sherpao for withdrawing their candidates.
The two also criticised Pakistan Tehreek-e-Insaf chief Imran Khan for neglecting the province while continuing to slogan for "change".
Earlier, Amir Muqam and Deputy Speaker Murtaza Javed Abbasi met JUI-F chief Fazlur Rehman and convinced him to support PML-N candidate Nasir Musazai in the by-election and withdraw JUI-F candidate Khalid Waqar.
In the 2013 general elections, Gulzar had won the constituency on the PTI ticket by garnering around 55,000 votes. PML-N's Nawaz's Nasir Khan Moosazai came in second after getting around 20,000 votes.