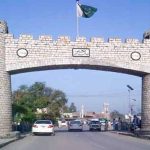 Maulana Fazlur Rehman, the president of JUI-F and PDM, has clearly stated that JUI-F will not sit with the PTI government on the issue of electoral reforms.
Maulana Fazlur Rehman made a telephonic contact with the senior PMLN leader Shahid Khaqan Abbasi in which Maulana made it clear to the PML-N leadership that his party is not going to sit with the ruling Pakistan Tehreek-e-Insaf (PTI) government at any forum.
Maulana also asked Shahid Khaqan Abbasi to take JUI-F and other parties of the PDM alliance on board on its contacts with the government on matters relating to electoral reforms.
It may be pointed out here that in a recent meeting of NA Speaker Asad Qaisar with parliamentarians from government and opposition members, it was decided to constitute a joint parliamentary committee to discuss issues regarding electoral reforms.
The motions would be moved separately in two houses of the Parliament.