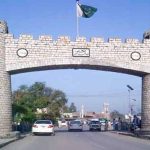 CHAMAN: At least three persons including Deputy General Secretary of JUI-F Maulana Muhammad Haneef were killed and 11 others sustained injured in a blast that occurred near Chaman area of Qila Saif Ullah, Balochistan.
The blast took place on Taj Road, in a busy market place, that shattered windows of nearby buildings. Police and security personnel have sealed the area.
Police confirmed that a blast has occurred and the explosive material was was planted inside a motorcycle on roadside. A vehicle was damaged due the blast. JUI-F leader Maulana Muhammad Hanif succumbed to the injuries on his way to the hospital.
Police said the blast took place in front of the JUI-F leader's office.
The injured have been shifted to nearby hospital for medical treatment.
The security forces have cordoned off the area and started a search operation.
JUI-F Chief Maulana Fazl-ur-Rehman condemned the bomb blast, saying that he was deeply aggrieved due to the death of his party's leader.
"Maulana Mohammad Haneef was a sincere leader," said Fazl-ur-Rehman, calling the incident a conspiracy against peace.
Interior Minister Ijaz Shah and Chief Minister KP Mehmood Khan aslo condemned the Chaman Blast. CM KP said the whole nation mourns with the victims of the blast.
Chief Minister Balochistan Jam Kamal and PPP leader Bilawal Bhutto Zardari also condemned the tragic incident and expressed grief over the death of Maulana Hanif.