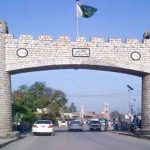 The unprecedented floods during the monsoon this year affected 33 million people, with millions in small towns and villages across Pakistan losing their homes in the deluge. A large number of those people continue to live under open skies awaiting promised assistance that had to come long before winter did.
The situation in Balochistan is relatively worse than the rest of the country due to it being under developed with pockets of populations spread over vast areas and a terrain that can appear uninviting if not inaccessible.
Considering the situation, it is imperative to ensure that any assistance meant for the floot-hit reaches them.
That is not what the Jamiat-e-Ulema Islam-Fazl (JUI-F) did when provided tents meant for flood victims.
The tents, with the markings of the UN Refugee Agency (UNHCR) were seen being used as ground covering or carpets at the JUI-F workers' convention held at the Ayub Stadium in Quetta.
Party leaders and venue administration resorted to blame-game when quizzed about why the tents meant for flood victims were being used at a political event.
Footage shared widely on social media shows tents across the racing track.
The ground's management said that they had only instructed the JUI-F workers to ensure the safety of race track.
Sources said the tents intended for flood victims were handed over by the Balochistan Provincial Disaster Management Authority (PDMA) to the political party instead of the victims.