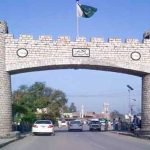 ISLAMABAD: Justice Asif Saeed Khosa on Monday took oath as acting Chief Justice of Pakistan (CJP) after top judge Mian Saqib Nisar embarked on a 15-day visit to Russia and China.
Justice Gulzar Ahmed administered the oath to Justice Khosa at a ceremony held on the premises of the top court, which was attended by judges and members of the legal fraternity.
Justice Asif Saeed Khosa, most senior judge of the Supreme Court, was part of the bench that handed down the April 20 verdict, declaring PML-N supreme leader Nawaz Sharif dishonest with the nation and the court.