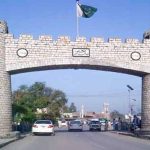 ISLAMABAD: Justice (retd) Nasirul Mulk took oath as caretaker Prime Minister today during a ceremony held at President House here in Islamabad on Friday.
President Mamnoon Hussain administered the oath to the caretaker prime minister.
The outgoing prime minister Shahid Khaqan Abbasi and chiefs of the armed forces of Pakistan were also present on this occasion.
Justice (retd) Nasirul Mulk was unanimously nominated as caretaker Prime Minister by the Government and Opposition.
He became the seventh caretaker prime minister of Pakistan.
Nasirul Mulk graduated from Khyber Law College at the University of Peshawar and qualified as a barrister in law in 1996 from London.
He also served as Chief Justice of Pakistan for about a year.