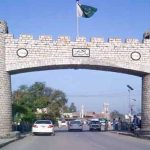 PESHAWAR: The Peshawar High Court (PHC) Chief Justice Waqar Ahmad Seth has passed away due to Coronavirus. He was under treatment at a private hospital in Islamabad, Khyber News reported. A spokesman for the PHC confirmed that Justice Waqar had coronavirus. He was aged 59 at the time of his death.
Born to a business family of Dera Ismail Khan on March 16, 1961, Waqar Ahmad Seth was enrolled as an advocate of the lower courts on December 18, 1985, as an advocate of the High Court on March 22, 1990 and advocate of the Supreme Court of Pakistan on May 24, 2008. He was elevated to the bench as Additional Judge on August 02, 2011, remained as Banking Judge, Peshawar High Court, remained as Company Judge, Peshawar High Court, Member Subordinate Judiciary Service Tribunal, Peshawar, and took oath as Chief Justice of the PHC on June 28, 2018. The Pakistan Bar Council (PBC) and the Supreme Court of Pakistan have announced a day of mourning today (Friday) over the tragic death of the PHC chief justice. In a joint statement, the president of the Supreme Court Bar Association of Pakistan (SCBA) and chairperson and the vice chair of the PBC Executive Committee announced that lawyers would not appear in the courts across the country except for urgent matters.
Prime Minister Imran Khan expressed grief and offered condolences to the bereaved family.