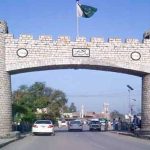 KARACHI: Prime Minister Shahid Khaqan Abbasi on Monday said that the dispute between two warring utilities K-Electric and Sui Southern Gas Company has been resolved and the SSGC has been instructed to provide required gas supply for power generation.
Addressing a press conference at the Sindh Governor House, the prime minister said the SSGC shall provide 190 MMCFD gas to K-Electric for power generation and even more if needed.
The power crisis in the metropolis aggravated earlier this month when the SSGC curtailed gas supply to the power utility first on the pretext of shortage from gas fields and later sought payment of arrears.
The Karachiites bear the brunt of the tug-of-war as prolonged power cuts have continued to plague the metropolis, with previously exempted areas being subjected to six hours of loadshedding every day.
PM Abbasi chaired a meeting of Cabinet's Energy Committee in Karachi to discuss the loadshedding issue threadbare.
The prime minister made it clear that areas where power theft is rampant, electricity supply cannot be guaranteed. There is enough electricity available in the system but the issue of theft has to be addressed.
Dispelling the perception that it was Center vs Sindh, he said it was a matter related to KE and SSGC and has nothing to do with Federal government. PM Advisor on Finance Miftah Ismail was tasked to look into the issue of KE arrears towards KW&SB.