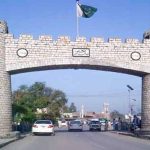 ISLAMABAD: Afghanistan has named Shukrullah Atif Mashal, former Afghanistan Cricket Board (ACB) chairman, as its new ambassador to Pakistan, reports from Kabul said on Saturday.
There was; however, no official announcement about Mashal's appointment.
The Afghan Embassy in Islamabad refused to offer comments.
BBC Pashto quoted unnamed government sources as saying that Mashal would replace Omar Zakhilwal, who had announced in February that he had requested President Ashraf Ghani to relieve him from his current diplomatic position as he has completed his two-year assignment.
Mashal, an ethnic Pashtoon, had resigned this month as ACB chairman, with three-and-a-half years of his five-year term still remaining.
According to Afghan-bios website, Mashal graduated from the American University of Kabul in political science and public administration. He has nearly 12 years working experience in management and leadership. He started his career as special assistant to attorney general in Kabul.
Zakhilwal, who was Afghan President's special envoy to Pakistan, is likely to play an active role in politics in view of the next year's presidential elections, according to some sources.
Last week, Kabul's Ambassador in New Delhi Dr Shaida Mohammad Abdali announced his resignation in a tweet as President Ashraf Ghani concluded his one-day visit to India. Abdali's resignation was also linked to his political ambitions. "Serving my country for years in India , I felt the need to return and serve my country from within," he wrote on Twitter.
In August, former Afghanistan's National Security adviser Haneef Atmar stepped down over what he described as "serious differences" with the government's policies and approaches. Afghan media had reported that Atmar, one of the few powerful leaders, could run for presidential election next year.
Zakhilwal, also an influential leader tweeted in February, "I have recently formally asked the President to replace me & that I would continue till then." "Main reason for my request has been that I had agreed to a 2-years assignment which is now completed. I have not asked the President for any other official position," he had said.
Zakhilwal, also an ethnic Pashtoon hailing from eastern Nangarhar province, has previously served as finance minister in the cabinet of former president Hamid Karzai and adviser to President Ghani.
Section of the Afghan media and comments in the social media had earlier suggested that Ambassador Zakhilwal could run for the next year's presidential elections. He, however, had not offered any comments about his future plans. Zakhilwal was one of the few Afghan leaders, who had condemned the United States dropping the massive bomb in Nangarhar in April last year.
"I find the use of the largest non-nuclear bomb, the so-called 'mother of all bombs', on our soil reprehensible & counterproductive. If big bombs were the solution we would be the most secure place on earth today," he had tweeted shortly after the 'mother of all bombs' was used to target the Islamic State hideouts.