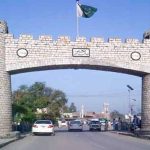 LAHORE: Pakistan Peoples Party's (PPP) Qamar Zaman Kaira on Wednesday unleashed verbal onslaught against ousted Nawaz Sharif while apprising him that he (Nawaz) was the one who proposed to constitute commission on Panamagate.
He was talking to media in Lahore.
While responding to claims of Pakistan Muslim League Nawaz (PMLN), Kaira urged Nawaz Sharif to tell nation names of those who were hatching conspiracies against him.
"Against whom you are conducting rally? PMLN's rally is aimed at asserting pressure on army and judiciary," senior PPP leader pronounced.
"Sharif family's assets, accounts, transactions and businesses were caught as result of joint investigation team's report and yet you were asking on what grounds you were ousted.
Kiara questioned why such heavy protocol was being given to disqualified Nawaz.
"Nawaz Sharif is worried as National Accountability Bureau is going to file reference against him. In desperation, Nawaz uttered words which fell in category of contempt of court," said Kaira.