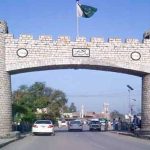 KARACHI: Pakistan Tehreek-e-Insaf (PTI) chief Imran Khan on Sunday asked the people of Karachi why have they not come out on streets to protest against lack of clean water and heaps of garbage lining the city.
"Karachi used to raise voice against injustice before anyone else. Why is Karachi, which stood up for the rest of the country, not coming out for its own rights," asked Imran.
The PTI chief said that the city contributes 60% of the Gross Domestic Product (GDP) of Pakistan.
The party is holding 'Huqooq-e-Karachi' march on Sunday to protest against the day-to-day problems faced by the city's residents.
He led the rally from Mazar-e-Quaid to Jail Chowrangi. PTI supporters gathered at the venue and set off for the final destination, Jail Chowrangi.
The PTI chief while announcing the march had said that the walk aims to bring to the spotlight issues such as loadshedding, water shortage and garbage disposal.
Earlier in the day, PTI and Pakistan Muslim League-Nawaz's workers came face to face outside the Karachi Press Club. Workers of both the parties started chanting slogans and hurled stones at each other, although the situation was brought under control later on.
The PTI Chief reached Karachi today, where he also spoke to media personnel. He claimed that the person who offered to pay Rs10 billion to him to be silent on the Supreme Court's decision over Panama leaks case, was ready to pay even more.
Speaking on the problems facing Karachi residents, Khan said the issue of water scarcity was the most serious and would be the focus of today's march.
"Karachi is buried in filth. Money that should be spent on development of Sindh goes to Dubai instead," the PTI chairman said.
"I had promised the people of Karachi I would come here after getting done with the Panama case, and I am here now," he remarked.
A week ago, PTI took to the streets of Karachi to mobilise and invite the public for the 'Huqooq-e-Karachi' march. Legendary cricketer Wasim Akram is also set to join the march today.
Meanwhile, PML-N leaders are also holding a rally in Karachi's Baldia area.
A heat wave is also forecasted in the city, with temperatures predicted to rise up to 41 degrees Celsius today.