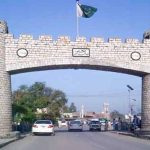 ISLAMABAD: Spokesperson of Prime Minister Polio taskforce Babar Bin Ata said that active poliovirus transmissions were recorded in as many as eight cities of the country.
"We have seen active transmission in Karachi, Lahore, Rawalpindi, Quetta, Peshawar, Bannu, Killa Abdullah and Pishin," Babar Bin Ata said at the sidelines of a TAG (technical advisory group) meeting.
He said that the focused and consistent polio campaigns all over the country not only reduced the polio cases but also lowered down the refusals from parents.
"In Karachi UC 4 Gadap and UC 6 Korangi are among the vulnerable areas for polio according to the received environmental samples," he said. "Independent Monitoring Board report has strongly recommended strong action be taken to tackle the polio issue."
Meanwhile, he announced that the first National Polio Campaign of 2019 will start from 21st January, the three-day campaign will vaccinate more than 8 million children under the age of five. Polio workers will go door to door to vaccinate the children.
In 2018 as many as ten polio cases were confirmed from the country, while the number of polio cases in 2017 was 7 and in 2016 the number was at 20.