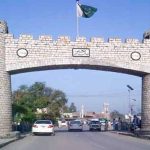 KARACHI: A factory worker, who had taken his colleagues hostage at gunpoint, has finally surrendered before the Rangers and police.
The suspect, identified as Saleem Shehzad, was fired by the administration three months ago and had not received two of his last paychecks.
The owner and a vendor of the factory were also taken into custody, police said.
SSP Malir Munir Sheikh said the police didn't find explosives in Saleem's bag but the clothes.
The police officer said the suspect was carrying an illegal weapon. He is mentally unstable, he added.
At around 5pm Tuesday, the gun-wielding man released a video, demanding the factory owners to give him back his job.
There were two workers inside the building, who were safely evacuated by the police.