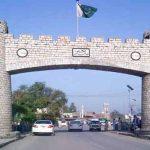 KARACHI: At least three terrorists have been killed in the security forces action inside Karachi police chief office, which was attacked earlier, say Sindh officials.
The Pak army, Rangers and police commandos have started clearance operation against terrorists, who attacked the Karachi police chief office on main Sharea Faisal. The rescue officials said that at nine injured persons have been shifted to Jinnah Hospital.
The Sindh police chief says that the security forces have cleared the third floor of the police compound.
According to Jinnah Hospital administration, nine injured have been shifted to hospital so far.
According to sources, about eight to ten terrorists were present in the parking area of the police office and exchanging firing with the security forces.
Sindh Chief Minister Murad Ali Shah has taken notice of attacked and directed the relevant DIGs to send personnel from their zones. "I want the perpetrators behind the attack on the additional IG's office to be arrested," he said, adding that an attack on the police chief's office was "not acceptable" at any cost.
The chief minister said that he was monitoring the situation from Central police office. He said that the injured have been shifted to hospital as the security forces have launched clearance operation.
The chief minister also sought a report from the officer concerned and said that he was personally monitoring the situation.