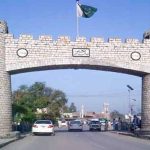 KARACHI: The initial inquiry report of Landhi train collission, which had left over 20 people dead on Wednesday, has held responsible the driver and assistant driver of the Zakariya Express.
According to the report, the driver and the assistant driver were stationed from Rohri for Karachi. As their destination neared, both went to pick their belongings inside the luggage section. The extreme negligence caused the train move past the red signal without decelerating and hence the collision occurred.
According to the report, the red signal was not taken seriously by the driver and assistant driver due to which the accident occurred. At the time of the accident, the report read, the speed of the train was 120 km/hour.
According to the Chief Signal Officer and the Chief Mechanical Officer, both the signals and the engines were in proper working condition, when the collision took place.
Two trains – Fareed Express and Zakariya Express – collided on Wednesday in Karachi, resulting in 22 casualties and injuries to more than 50 passengers.
Among the 22 dead were also women and children, who traveling in the two passenger trains.