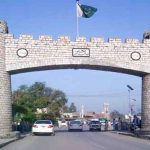 ISLAMABAD: Foreign Minister Khawaja Muhamamd Asif and Prime Minister AJK Raja Farooq Haider have strongly condemned the unprovoked firing by Indian army across the Line of Control. They expressed these views during a meeting in Islamabad this evening.
Foreign Minister Khawaja Asif said Kashmir is the cornerstone of Pakistan's foreign policy. He added that Pakistani nation stands by thier Kashmiri brethren.
Prime Minister AJK Raja Farooq Haider said Pakistan is the centre of hope for Kashmiris. He added that Kashmiris are determined to acquire their fundamental right to self-determination.
Both the leaders expressed their concern on brutalities of Indian troops in the occupied Kashmir.