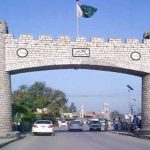 ISLAMABAD: Kashmir Solidarity Day is being observed today across the country to condemn the on-going Indian state terrorism in occupied Kashmir.
Purpose of the solidarity day is to express support to the Kashmiris in their just struggle for securing their inalienable right to self-determination.
The decision to observe the Solidarity Day was taken by the Federal Cabinet at its meeting held in Islamabad under the chairmanship of Prime Minister Shahid Khaqan Abbasi on Monday following the killing of innocent people by the Indian troops in occupied Kashmir on Sunday.
Different programmes including rallies, demonstrations and walks would be held across the country and in different parts of the world by Pakistanis and Kashmiris to draw the attention of the international community towards the Indian atrocities in occupied Kashmir and to highlight the need for peaceful resolution of the longstanding dispute.
Meanwhile, the UN Secretary-General Antonio Guterres is continuing to follow "very closely" the deteriorating situation in Indian occupied Kashmir.
Spokesman for the Secretary General Stephane Dujarric told news persons at a regular briefing in New York that the good offices of the United Nations are available if both parties require and ask for it.
He said India is opposed to any UN mediation in resolving the Kashmir problem while Pakistan has continuously sought the secretary-general's good offices to resolve the decades-old dispute.
He further said the Secretary-General has expressed and will continue to express his concern at the situation in Indian occupied Kashmir.