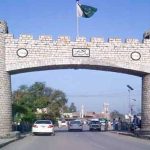 ISLAMABAD: Kashmiris residing in both sides of Line of Control (LoC) will observe Black Day on Thursday as a sign of protest against the Indian invasion of Jammu and Kashmir 69 years ago.
Indian forces had occupied Kashmir in an invasion on 27th October, 1947. Since than thousands of Kashmiris have lost their lives due to the Indian atrocities in the region.
Kashmiris will observe the black day on this Thursday to express their antipathy and ire over Indian occupation of Jammu and Kashmir.
A shutdown strikes and rallies will be held in the occupied territory whereas black flags will also be hoisted on both sides of the Line of Control (LoC).
A protest rally and demonstrations and processions are also scheduled to be held in Mirpur in Azad Kashmir.
Kashmir has been at the centre of the conflict between India and Pakistan since they gain independence from British colonial rule in 1947. The Himalayan region is divided between the two countries, though both claim it in its entirety.
Kashmiri freedom fighters have waged a struggle since late 1980s for independence of the region or its merger with Pakistan.