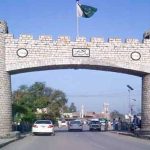 KARACHI: Federal Minister for Information Technology and Telecommunication Khalid Maqbool Siddiqui on Sunday announced his resignation from the Federal Cabinet.
"We had promised the government that we would help in forming the government and we have fulfilled the promise. However, none of our promises were fulfilled," Siddiqui said while addressing a press conference in Karachi along with senior Muttahida Quami Movement- Pakistan (MQM-P) party leaders in Karachi.
He continued, "It is becoming increasingly difficult for me to remain a part of the Federal Cabinet. My sitting in Cabinet has been raising questions."
Responding to a question about the proposal of ministries by Pakistan Peoples Party Chairman (PPP) Bilawal Bhutto Zardari, Siddiqui said there had been talk of different ministries, however, MQM-P will continue its cooperation with the government.
Speaking about the agreement with the government, the MQM-P convener told the media two agreements were done with Pakistan Tehreek-e-Insaf (PTI), one in Bani Gala, the other in the Bahadurabad, in the presence of Jahangir Tareen.
He added, that they [MQM-P] had supported the federal government in every difficult phase but injustice was being done with Sindh. "This has nothing to do with PPP's offer," Siddiqui said.
In response to a question regarding ending the alliance with the government, Siddiqui said, "We did not ask for the law ministry neither did we propose Farogh Naseem's name. The two names that we had proposed for the ministry did not include [Farogh] Naseem's name. The government had selected his [Farogh Naseem] name on its own."
Last month the PPP chairman had offered MQM-P provincial ministries if it helped "topple the government."
"We are ready to give you the same number of ministries in Sindh," Bilawal had said, addressing the MQM-P. "The PPP will support the toppling of PTI rule".
"The economic situation is dangerous and the PTI government is making policies that go against the [interests of] poverty-stricken people," he said.
Talking about Karachi, Bilawal said that the city "is very important" and acknowledged that, "we need to give basic rights to the Karachiites".
He also blamed the PTI for the ongoing gas crisis in Sindh and accused it of "stealing gas".