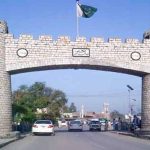 Election Tribunal allows Abbasi to contest polls from NA-53
ISLAMABAD: Former prime minister and Pakistan Muslim League-Nawaz (PML-N) senior leader Shahid Khaqan Abbasi on Tuesday expressed reservations over transparency of upcoming General Elections and said that the arrest of Qamrul Islam Raja, PML-N candidate from NA-59 and PP-10, Rawalpindi is tantamount to pre-poll rigging
Khaqan Abbasi was talking to the media outside the Islamabad High Court. Expressing apprehensions over the arrest of the PML-N candidate from NA-59 and PP-10, Rawalpindi, Qamrul Islam Raja by NAB, Abbasi said his arrest tantamount to pre-poll rigging.
Abbasi said just a few days ago, NAB had given Raja a letter certifying that he has no pending cases against him and that he was not wanted by the accountability bureau, which he had submitted along with his nomination papers. A man, who has never been investigated by NAB, was suddenly arrested as he was gearing up to contest polls, he said. "This is political victimisation and an insult to the electoral process," Abbasi added.
He urged the chief election commissioner to take notice of the fact that Raja was not wanted until he filed his nomination papers. "It would be better if these investigations are halted until the election otherwise it would make the whole election process questionable," said Abbasi. He also asked the interim government and NAB authorities to immediately release Raja.
Meanwhile, an election tribunal of the Islamabad High Court has overturned the decision of the returning officer (RO) from NA-53 and cleared former prime minister Shahid Khaqan Abbasi to contest the polls.
The RO had rejected Abbasi's nomination papers after he failed to complete the affidavit that had to be submitted with the papers.
Abbasi, who was present at the Islamabad High Court, said in Clause N of the affidavit he had mentioned that in his opinion his biggest service to his constituency is that he has never been part of any dictatorship. It is the federal government's duty to build schools and roads, he added.
Clause N asks candidates, who have previously been elected as members of parliament, to list the contributions they made for the benefit of their constituencies.
The tribunal also accepted Ayesha Gulalai's appeal to contest the elections from NA-53. The RO has rejected her nominations papers as she had also failed to answer all the questions in the affidavit.