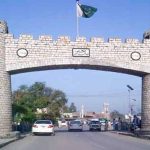 LAHORE: Former prime minister Shahid Khaqan Abbasi and Pakistan Tehreek-e-Insaf (PTI) leader Fawad Chaudhry on Thursday moved the Lahore High Court against an appellate election tribunal's decision restraining them from contesting from NA-57, Murree and NA-67, Jhelum respectively.
In his plea, Khaqan Abbasi has stated that the tribunal exceeded its authority when it disqualified the former premier for life.
Similarly, Chaudhry has said in his appeal that the tribunal's decision was not based on facts.
A day earlier, the appellate tribunal disqualified Abbasi for "concealing facts and withholding information from voters" in his nomination forms submitted for NA-57 Murree — his home constituency.
In its written verdict, the tribunal said that Abbasi does not meet the requirements under Article 62(1)(f) of the Constitution of Pakistan.
The verdict read that the former premier was found "guilty of concealment of facts and withholding of the complete information from his voters."
It said that Abbasi "is not an honest and Ameen person and after such declaration, declare him as not a qualified person to be elected or chosen as a Member of Majlis-e-Shoora (Parliament) within the meaning of Article 62(1)(f) of the Constitution of the Islamic Republic of Pakistan, 1973."
Meanwhile, Fawad Chaudhry's nomination papers were rejected from his home constituency of NA-67, Jhelum on Thursday during a hearing of an appeal filed by Justice and Democratic Party's Fakhar Abbas Kazmi against the acceptance of the PTI leader's nomination papers by the returning officer.
Kazmi had objected, saying that Chaudhry had not paid agriculture tax on his land.
He had also stated that the PTI leader's name on his identity card was listed as 'Fawad Ahmad'.
Speaking to the media after the judgment, the PTI leader had said, "The basis of today's decision is to influence my election campaign."
"The decision is not based on merit," he said.
Chauhdry further stressed that his supporters and party workers do not need to worry about the tribunal's decision restraining him from contesting from NA-67.