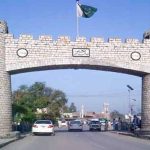 ISLAMABAD: Former prime minister and PML-N stalwart Shahid Khaqan Abbasi on Monday alleged that proceedings initiated by National Accountability Bureau (NAB) were making forthcoming elections controversial.
Khaqan Abbasi was addressing workers here in Islamabad today.
Abbasi—who succeeded Nawaz as premier after landmark Panama case verdict—asserted that PML-N had already earned moral victory ahead of general polls while questioned arrest of Qamarul Islam—the candidate contesting elections against Chaudhry Nisar on PML-N's ticket—after issuance of ticket. He added that the accountability body was erected by then dictator Pervez Musharraf against political outfits.
"The person against whom there are no witnesses is registering appearances before courts", regretted Abbasi while calling for transparent and fair elections in the country.
Abbasi urged interim setup to play its role for fair elections. He said, "Governments can't be run by depriving masses of their right to self-determination".
While foreseeing victory in elections 2018, Abbasi claimed that only PML-N can rectify faults in the country's economy.