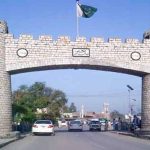 ISLAMABAD: Minister of State for Interior Shehryar Afridi on Tuesday rejected reports that the personnel of Khasadar force and Frontier Constabulary in Khyber Pakhtunkhwa are not being provided with salaries.
Speaking in Senate, Shehryar Afridi said that all the Khasadar force and Frontier Constabulary personnel in Khyber Pakhtunkhwa are being paid their salaries.
Minister of State for Parliamentary Affairs Ali Muhammad Khan said the government is considering further enhancing the budget of Frontier Constabulary, Khyber Pakhtunkhwa in the upcoming fiscal budget.
Minister of State for Parliamentary Affairs Ali Muhammad Khan told the House that Radio Pakistan and Pakistan Television Network are assets of the country. He said a proposal is under consideration to upgrade Radio stations of Pakistan Broadcasting Corporation with new digital equipment. He said an amount of three billion rupees is estimated for upgradation of radio stations.
When asked about those working on contract basis in Radio Pakistan, the Minister of State for Parliamentary Affairs said that it is the policy of PTI government to employ people on permanent basis as per the rules and regulations. He strongly criticized the policy of hiring people on contract basis.
Ali Muhammad Khan said the national broadcaster is allocating sufficient time to highlight the issues of women and children in Urdu and as well as the regional languages.
To another question, Ali Muhammad Khan told the House that fifteen special police stations have been established across the country to deal with cyber-crimes. He said that we also made cyber-crime wing fully functional by paying the outstanding salaries of its staff. He said about 15350 complaints regarding cyber bullying and harassment were received by the cyber-crime wing during 2018-19. He said that over 8124 complaints have been addressed and 176 persons arrested.
Responding to a calling attention notice moved by Siraj-ul-Haq, Leader of House in the Senate Shibli Faraz said international increase in the prices of petroleum products and devaluation of currency has led to increase in the prices of petrol, diesel and LNG in the country. He, however, said that our petrol and diesel prices are still lower than those in India and Bangladesh.
Minister for Railways Sheikh Rashid told the house during question hour that this project will see replacement of existing track with new one and the installation of new signaling system.
The Senate was informed that ML-1 will be upgraded from Peshawar to Karachi under China-Pakistan Economic Corridor (CPEC) Project.
He said feasibility study is being carried out to revive Peshawar-Torkham rail track. He said the feasibility study will be completed in a period of three months.
Sheikh Rashid said we have increased freight trains from eight to twelve. He said Pakistan Railways is playing a vital role in the transportation of goods across the country. Recently, it has transported imported fertilizer to different parts of the country for the Ministry of Industry and Production. He said other private companies are also approaching Pakistan Railways for the transportation of fertilizer from ports to the upcountry. He said that there is also a plan to lay track at Thar on built operate and transfer basis.