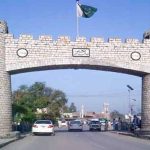 PESHAWAR: Chief Minister Khyber Pakhtunkhwa (KP) Pervez Khattak on Saturday submitted a detailed response at least 30 questions sent to him by National Accountability Bureau (NAB).
According to media reports, the KP chief minister submitted responses to NAB's corruption allegations in forest department, giving land on lease in Malam Jabba and the official use of helicopter.
The reports said that responses of Khattak were being thoroughly scrutinized adding that the anti-graft watch would prepare a reference against the Chief Minister if his replies were not satisfactory.
NAB had summoned Khattak on April 24 after it emerged that the KP government had illegally leased 275 acres of land in Malam Jabba, a tourist attraction in Swat district, which belonged to the provincial forest department.