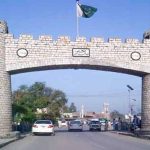 ISLAMABAD: Foreign Minister Khawaja Asif will represent Pakistan in an international conference to find a solution to the Afghan conflict which begins in Uzbekistan's capital Tashkent today.
The Pakistani delegation participating in the conference will be headed by Khawaja Asif.
Twenty countries and international organizations are attending the conference, titled "Peaceful Cooperation in Security and Regional Interaction".
The conference will discuss peace and stability in Afghanistan by promoting cooperation for Afghan reconciliation and in counter-terrorism and counter-narcotics.