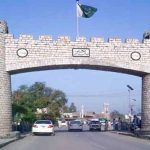 LAHORE: An accountability court here on Wednesday granted physical remand of former railways minister Khawaja Saad Rafique and his brother former Punjab health minister Khawaja Salman Rafique until Dec 22 in a case related to the Paragon Housing Society scam.
NAB officials brought both the brothers to the court amid tight security. Special security arrangements were made with a strong contingent of security personnel deployed at the court to avoid any untoward incident.
A NAB prosecutor requested the accountability judge to grant their physical remand for 15 days as their custody was required for further investigation into the case.
The judge, however, remanded the PML-N leaders in NAB custody for ten days and directed the Bureau to provide all basic facilities to them.
Saad Rafique complained to the judge that medicines are not being provided to him properly as he is unwell. He added whether one is guilty or not will be determined later but they should not be meted out inhuman treatment at least for now.
At this, the judge directed the prosecutor to submit a written assurance that the suspects will be provided all facilities.
Yesterday, NAB officers arrested the PML-N leaders after the Lahore High Court dismissed their bail pleas in the Paragon housing society scam.
During the course of the hearing, the NAB prosecutor requested the two-judge bench of the LHC headed by Justice Tariq Abbasi to dismiss the Khawaja brothers' bail.
He argued that the Bureau was conducting an investigation against them as per the law, adding that they were linked to the Paragon Housing Society scam.
He said the brothers had also admitted to taking millions of rupees as commission. He quoted one of the accused as saying that Saad would come to every meeting of the society to issue people allotment letters.
The Khawaja brothers' lawyer, however, rejected the allegations against his clients, saying only 6 per cent of the total profit was taken by them which they had declared in tax returns.
NAB had launched the investigation into the scam in November this year after a number of victims staged protests and held a press conference at the Lahore Press Club against what they termed housing society's fraud.
Qaiser Amin Butt, a director of the Paragon Housing Society, was arrested last month and agreed to become an approver and recorded his statement before the chairman NAB.
Qaiser, who is a close friend of Khawaja Saad Rafique, revealed that Paragon Society was not approved by the Lahore Development Authority (LDA) and Khawaja brothers were the beneficial owners of the housing scheme.
He further disclosed that Paragon City Director Nadeem Zia was responsible for all transactions and Khawaja brothers used to receive all money in cash.
Paragon Society was not approved by the Lahore Development Authority and Khawaja brothers were the beneficial owners of the society, Qaiser had revealed.