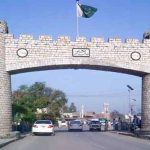 ISLAMABAD: Pakistan Peoples' Party (PPP) senior leader Syed Khursheed Shah has been admitted to Polyclinic Hospital after his condition worsened in NAB custody on Thursday.
As per the details, Khursheed Shah, who was arrested yesterday by the anti-graft watchdog, had pain in his abdomen after which he was rushed to hospital where he undergoes medical examination.
The former opposition leader said that he was having difficulty in breathing, while his heartbeat rate was also recorded higher than normal.
Earlier, the National Accountability Bureau (NAB) raided the house of Pakistan Peoples' Party (PPP) senior leader Syed Khursheed Shah in Bani Gala and seized important documents.
The anti-graft watchdog the PPP leader is accused of allotting to himself an amnesty plot illegally from a cooperative society in Sukkur.
On August 7, the anti-graft agency had unearthed more than 105 accounts that led to the PPP senior leader. Shah had opened as many as 105 banks accounts under his and family members' names in Karachi, Sukkur and other cities.
Further, properties were made in Sukkur, Rohri and Karachi, according to document acquired by the accountability watchdog and it also reveals that Glamour Bungalow, Junejo Flour Mills, Mukesh Flour Mills including 83 other properties were made under Shah's frontman, Pehlaj Rai.
More 11 properties were registered under his another frontman Lado Mall and 10 properties were made under name of Hussain Soomro, another frontman of the PPP leader whereas a person namely Umar Jan also played a vital role for Shah.